User Experience – Websites are More than Just Aesthetics
Websites are More than Just Pretty Pictures
One may think this is obvious. However, when you see the array of templates and themes out there on the market, especially such as those found on Theme Forest. That may be all you're looking at, a bunch of pretty pictures. Which by the way all disappear once you purchase the theme. Then all you're left with is a template that organizes placeholder latin text. Doesn't seem like this process would follow user-centered design, design thinking, or any real form of user experience. The plus side is that using templates, saves a lot of time. As long as the developer working with these templates truly has the ability to modify them to suit the needs of the organization; then these templates can be worked into a project effectively. However, rarely should a developer just use the exact template and simply add in the text information. The reason for this is because every brand is unique, and has a unique value proposition. The creators of these templates don't know your unique company, therefore always consider a template just a starting point, that will always be modified into something usable, useful, and valuable for an organization.
Working on the Business Strategy
The bigger picture here is that every website deserves to have a considered business objective applied to it. When working on the strategy, user interface, and content of the website, one must consider all the design elements and how they relate to user experience.
User experience is the junction where the needs of the user overlap with the goals of the business.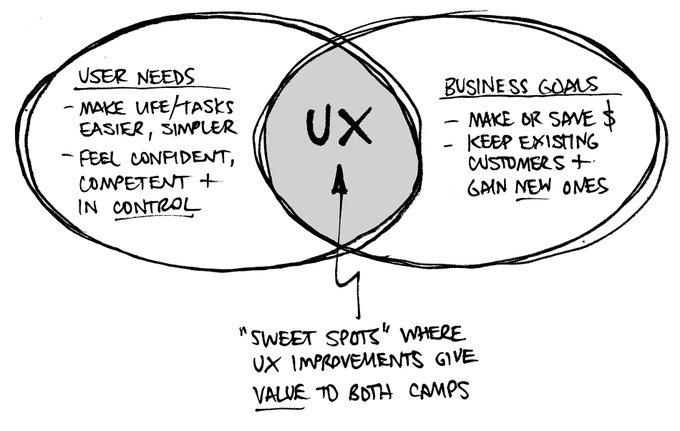 User experience is the junction where the needs of the user overlap with the goals of the business. Where these two areas overlap is where user experience can be found. User experience is about the discipline that focuses on the experience of the user. In other words, it focuses on the experience of the person interacting with the usability of your product or service.
User experience is otherwise known as interaction design. User experience makes something both: usable, useful, and valuable. Following a process for developing digital products focused on user-centric design leads to a more successful product. Practicing user experience can't guarantee an ultra successful product, however it can greatly increase its likelihood for success.
User experience for mobile applications and ecommerce websites are the most common use case scenarios for implementing effective research and strategy. One very common need for good user experience websites is to test the checkout process on an e-commerce website.
User testing can be held to verify whether the user experience for websites was positive, or whether further improvements need to be made.
Design, Code, and Good User Experience
When working with a freelance web designer, it is encouraged that the designer should not only be an excellent coder / programmer, have good eye for design, but understand business objectives. If that designer can understand the objectives of the company while discovering the true needs of the people using the service, then that is a recipe for success.
As the founder of Skylight Designs, my formal education has been in graphic design. In the graphic design program at Algonquin College, I studied interaction design, where we conducted usability studies, learned about information architecture, and spent time creating good interface design for mobile applications and responsive websites. We would test our mobile prototypes and see whether they were usable and made sense to the general public. I enjoyed testing my prototype with engineers. I saw that engineers can a critical way of thinking and saw things differently to what was known very well to designers. Moving from my graphic design roots, I explored programming, and now I'm revisiting user-centered design. My goal is to combine all the skills of graphic design, web development, and user experience into a cohesive whole that will meet the goals of your organization to its full potential.